Tony and his team were with me through the most difficult time of my life.

Mr. Hartsoe treated me with the utmost respect.

He was so very informative, patient, well-spoken and kind-hearted.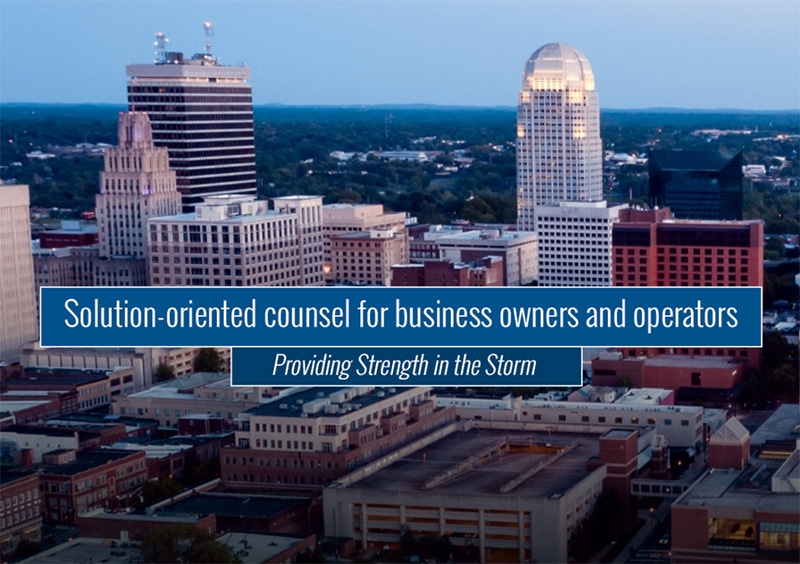 Divorce, Litigation & Business Law Attorneys in
Winston-Salem and Greensboro
Offering a wide array of family law, business, tax, and personal injury services
When you are faced with a life-altering change, the attorneys you choose matter. For more than 25 years, Hartsoe & Associates, P.C. has served the people of Winston-Salem, Greensboro, and the greater Piedmont Triad of North Carolina with integrity and honesty.
From family law and divorce to business law, tax concerns, and personal injury claims, we provide trusted guidance for clients faced with important choices. No matter the need, we are your strength in the storm, and will stand by your side as we navigate the legal process together.
Award-winning, experienced attorneys protecting the interests of business owners and families throughout the Piedmont Triad
Family law and divorce services
The decision to divorce is rarely made lightly. For many, that decision comes after months, perhaps years, of deep reflection. Often, the people we serve come to us with lingering feelings of uncertainty or fear; even when they know they are making the right decision, it is still a difficult one to make.
At Hartsoe & Associates, P.C., we are here to assuage those fears, and offer you a new path forward. Our family law and divorce lawyers in Winston-Salem and Greensboro are committed to providing honest counsel to individuals, families, and business owners. We invite you to learn more about our services:
Parenting Coordination
Premarital and Postmarital Agreements
Separation Agreements
Spousal Support
Alternative low-cost strategies for divorce
Passionate screaming matches may make for good TV, but most couples would prefer to avoid that type of drama during their own divorce proceedings. That is why Hartsoe & Associates, P.C. offers alternative dispute methods for clients who agree on almost everything, but could use a little guidance along the way. Our attorneys provide alternatives to litigation such as:
Divorce Arbitration
Collaborative Law
Often, these methods allow the divorce to proceed more quickly, and can reduce both costs and stress for everyone involved.
You can count on us to fight for what's best for your family. Why? Because we have families, and we care about yours.
Business law and litigation services
Hartsoe & Associates, P.C. is passionate about helping business clients succeed. You have put a lot of time, effort, and money into building your business into a profitable, rewarding, and satisfying investment. The firm, led by veteran attorney Tony Hartsoe, offers a wide array of business law and litigation services designed to help business owners and operators. Whether you are a start-up, a Mom 'n' Pop shop, a franchisee, or the CEO of a multi-million Fortune 100 company, Hartsoe & Associates, P.C. can help. Contact the firm for assistance with:
We understand the realities of running a business.
You can trust us to help you with yours.
Hartsoe & Associates, P.C. helps individuals and businesses throughout the Piedmont Triad Area resolve a wide range of tax problems. We can address virtually any state or federal tax issue in an efficient manner. From back taxes, levies, and liens to employment concerns and abatements, we have you covered. Contact us to schedule a free consultation with an experienced tax lawyer:
Offers in Compromise
Installment Agreements
Penalty Abatement
All of the legal websites say the same thing—they are experienced, aggressive, and so forth. We are different. While we have a great deal of experience both in court and out, and we too are aggressive when we need to be while being reasonable and professional throughout the process. What sets us apart is our other experience.
Tony Hartsoe has litigated cases at every level of court in this country except the U.S. Supreme Court, including federal and appellate courts; he has represented Fortune 100 companies in cases where millions were at stake; he has handled bankruptcy and business cases; he has handled personal injury and workers' compensation cases; he has handled cases where his clients owe millions in taxes to the IRS or the state. In short, our firm is equipped to help you deal with all of the myriad issues that can arise in your family law case, bringing experience to even the most complicated cases that few firms in this area can match.
We understand that people's worldviews affect and inform the decisions they make. For some, that worldview is guided by faith in a higher power. Our attorneys are committed to assisting clients whose Christian faith sits at the core of who they are by working within Christian principles and offering legal counsel from a Christian perspective, if desired. That choice is entirely up to you.
Aggressive representation for the injured
A serious personal injury can cause more than physical pain: it can lead to stress, uncertainty, and untenable financial burdens. It affects entire families and caregivers. At Hartsoe & Associates, P.C. we believe in accountability. That is why we proudly represent personal injury clients throughout the state. Tony Hartsoe has worked for the insurance companies and knows all of their moves—now let him work for you. If you were hurt because of another person's negligence, we want to help. Call us today to learn more about our services regarding:
Trucking Accidents
Motorcycle Accidents
Our firm takes personal injury cases on contingency, meaning you pay nothing until we win your case. Even your initial consultation is free. Let our family help yours when you need it the most.
Principled guidance and passionate representation:
our promise to you
At Hartsoe & Associates, P.C., we are committed to facing those challenges with you. Whether you are seeking a divorce, need help after an injury, or want to secure your business, each of those challenges deserves to be addressed with dignity, passion, and integrity. You deserve a team who will assist you on your path, and who understands that we are called to be good shepherds to one another and to our community.
That is our promise to you. When you choose us, you choose a team who sees you as a person, not a case number. Our attorneys in Winston-Salem and Greensboro make the following promises:
To treat you and your goals with compassion, understanding, and dignity
To offer honest, ethical guidance designed with your best interests in mind
To work hard on your case from Day One
To protect your interests at all times within the confines of the law
To be accessible to you, and to answer your questions
To be your port in the storm for as long as you need us
Trustworthy family law & business law attorneys serving Winston-Salem,
Greensboro, and beyond
Hartsoe & Associates, P.C. represents individuals, families, and business owners in Winston-Salem, Greensboro, and throughout the Piedmont Triad. When you need help, we are your strength in the storm. To schedule a consultation with an experienced attorney, please call 336-725-1985 or fill out our contact form.