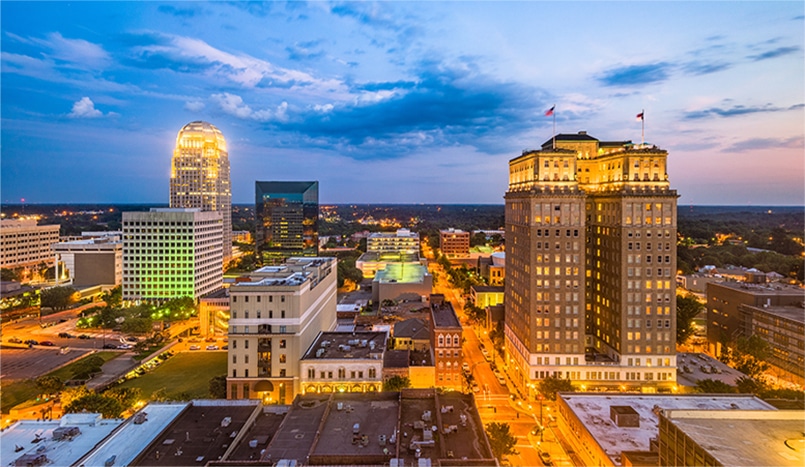 How Hartsoe & Associates, P.C. Helps Clients in Winston-Salem and Greensboro
Offering a wide array of family law, business, tax, and personal injury services throughout the state
Hartsoe & Associates, P.C. provides knowledgeable, professional legal services in the Piedmont Triad and throughout North Carolina. Our attorneys focus on guiding clients toward cost-efficient and effective solutions to their legal problems.
We offer clients practical and strategic results, putting our more than 25 years of experience to work for you. Whether you need help with an issue involving family law, personal injury, tax services, or business law, look to the lawyers at Hartsoe & Associates, P.C. for the support and advocacy you need.
Set up a consultation today. We have offices in Winston-Salem and Greensboro.
A unique focus on family law and divorce
Hartsoe & Associates, P.C. proficiently handles all aspects of family law, from the straightforward to the most complex cases – and we treat yours as if it is the most important case in the world. Because we know, for you and your family, it is.
We provide legal counsel for a wide range of family law and divorce issues, including:
Adoption & Name Changes
Child Custody
Child Support
Grandparents' Rights
Order Modification
Order Enforcement
Orders of Protection

Paternity & Parentage
DSS & CPS Removals
Divorce
Divorce Arbitration
Divorce Mediation
Collaborative Law
Separation Agreements

Premarital & Postmarital Agreements
Tax Ramifications of Divorce
Divorce for Business Owners
Equitable Distribution
Spousal Support
Parenting Coordinator
Complex & High Net Worth Divorce
Whatever goal you need to achieve in your family law matter, we can help. Our attorneys are highly experienced, compassionate, and understand your problems in an in-depth manner that helps you get the results you want for your case.
Skilled business law and litigation services
Business law and litigation involves matters or disputes around businesses and commercial issues of a non-criminal nature. This can encompass a broad range of issues across nearly all industries, and our attorneys can guide and advocate for you. Look to us for assistance with:
Small and Large Business Litigation
Business Formation and Coaching
Asset Purchases
Operating Agreements
Business Mediation and Arbitration

Employment Matters
Workers' Compensation and Insurance
Insurance Coverage
Sales Taxes
Employment Taxes
Business law can be extremely complex, so it is vital to seek out experienced Winston-Salem and Greensboro attorneys during all stages of business planning and strategizing.
Professional guidance with taxes and IRS matters
If the IRS is hounding you or your business, you likely need help and you need it fast. Our attorneys provide knowledgeable guidance and assistance in working with the IRS or State Department of Revenue on past-due income and payroll taxes.
Hartsoe & Associates, P.C. can help you pursue a variety of options in settling IRS and tax issues in a satisfactory manner, including:
Dealing with Substantial Tax Debt
Offers in Compromise

Installment Agreements
Penalty Abatement
Our attorneys can also look at your case to see if you determine for hardship status, or are eligible for any other type of program to help alleviate your tax issue.
Experienced representation for personal injury and accidents
Before becoming an attorney, Mr. Hartsoe worked as a claims adjuster for many years. During this time he gained the unique skillset necessary to successfully negotiate settlements with insurance companies. For more than two decades, Attorney Hartsoe has served the Piedmont Triad area in litigation, mediation and settlement in all types of personal injury cases, including:
Catastrophic Injuries
Dangerous Products
Motor Vehicle Crashes

Medical Malpractice
Trucking Accidents
Motorcycle Accidents
Our law firm has handled countless personal injury claims, and we know when you suffer an injury due to someone else's negligence, you face other losses as well.
Emotional trauma, physical trauma and medical bills can all add up – and the only way to find closure and justice is through financial compensation. Hartsoe & Associates, P.C. can help.
Winston-Salem & Greensboro attorneys with a passion for excellence
At Hartsoe & Associates, P.C., we represent the people, families, and business owners of the Piedmont Triad, Winston-Salem, Greensboro, and surrounding areas. We provided dedicated and dependable representation when you need help with a legal issue. Let us be your strength in the storm. To schedule a consultation with an experienced attorney, please call 336-725-1985 or fill out our contact form.