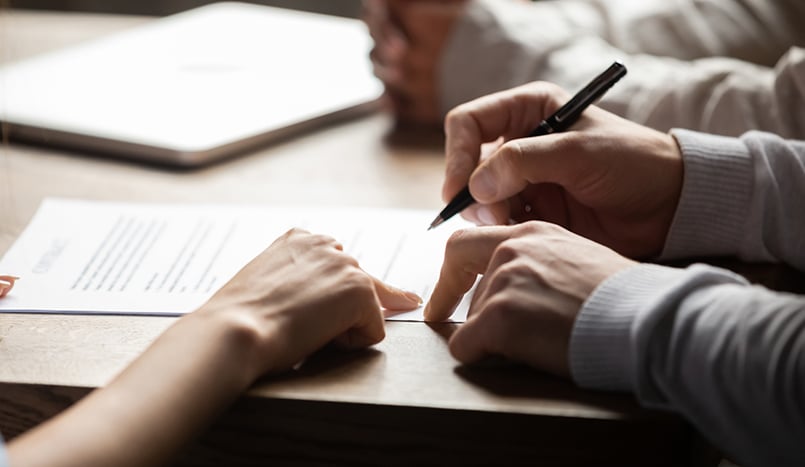 Employment Law Attorneys in Winston-Salem & Greensboro
Legal guidance on employment matters for business owners in the Piedmont Triad
Today's business environment and culture is continually evolving, which means it is vital for employers to maintain open and positive relationships with their employees. Although North Carolina is an at-will employment state, meaning an employer can terminate an employee at any time without cause, employers may not discriminate and are subject to many state and federal employment laws.
The employment and business law attorneys at Hartsoe & Associates, P.C. are committed to working with companies to protect their employees, their best interests and their company's mission and goals. We help establish procedures and contracts to ensure our clients are working within legal guidelines, and advocate for them in court in the event of challenges or disputes.
Employment law in North Carolina
The relationship between the employer and the employee is financially beneficial for both. An employer invests in their employee and wants to protect that investment. However, in some cases, this relationship can become strained or troubled for any number of reasons, and require legal intervention for resolution. Employment law, also called labor law, can fall under human resources, North Carolina state law, and federal law.
Some of the more common issues, disputes and claims involved in employment law include:
Americans with Disabilities Act (ADA)
Discrimination (race, age, religion, gender, national origin)
Employment contracts
Employment litigation
Family Medical Leave Act (FMLA)
Non-compete and non-disclosure agreements
OSHA compliance
Sexual harassment
Wage and hour disputes
Workers' compensation
Wrongful termination
Employment law can be complex, requiring a variety of evidence, documentation and paperwork. The best way to defend a client in an employment law case is to ensure they never find themselves in that position in the first place. Our attorneys work with clients directly from business formation throughout the life cycle of their company, helping develop policies to keep their employer-employee relationship proactive and transparent.
How our Winston-Salem attorneys work proactively
At Hartsoe & Associates, our law firm provides practical advice for companies to anticipate and mitigate the liabilities that come along with the workplace. We offer assistance in creating and implementing policies and procedures for employment matters, including:
Background check and confidentiality practices
Drug policies and substance abuse testing
Employee and human resources (HR) manuals
Hiring and promotion standards
Investigation of employee complaints
Overtime and exempt employees
Procedures for discipline and termination
Our attorneys can also assist with a variety of other employment matters, including negotiating and drafting contracts, confidentiality agreements and severance packages.
What are some common North Carolina employment law issues?
Even with the most proactive plans and procedures in place, a company may find itself facing complaints from an employee or ex-employee. In situations like these, it is crucial to have an experienced Greensboro employment law attorney as counsel. Attorney Hartsoe and his team of seasoned litigators provide help when clients face issues like the following:
Wage and hour disputes
We represent employers in claims arising from the Fair Labor Standards Act (FLSA). We also advocate for our clients in cases regarding nonpayment of wages, severance, bonuses or equity compensation.
Discrimination and wrongful termination
We represent employers in front of administrative boards or court in cases alleging discrimination or retaliation under laws like the ADA, ADEA, Title VII, FMLA and wrongful termination.
Non-compete and trade secrets
We represent employers, statewide and nationwide, to enforce non-compete and other agreements. We protect these agreements designed to protect a company's trade secrets and client relationships, and ensure they are not violated or infringed upon.
Workplace harassment
We represent and defend employers in cases of workplace harassment, a complex area of employment law. Our attorneys can also review and update a company's workplace anti-harassment policy to ensure it receives and responds to complaints in a timely and fair manner.
Employment contracts
We represent employers accused of breaching employment contracts, or enforcing contracts on the part of an employee. Our attorneys perform a thorough review of all contracts and agreements between parties and provide legal guidance, whether in mediation and arbitration or in court.
The importance of hiring a Greensboro employment law attorney
Even the best-intentioned company may need the assistance of an employment lawyer at some point during the lifecycle of their business. Business laws change over time, and some matters simply require legal expertise. We recommend consulting with an attorney in any of the following situations:
Before firing or terminating an employee
Before classifying a worker as a contractor or employee
If you are notified you are being sued
If an employee files an administrative claim or charge
When drafting or signing documents, contracts or releases
Reviewing employee handbooks and policies
An employment law attorney is not just a luxury; it is a must for any company. Once a business has 15 employees or more, they are subject to follow the ADA, and once they have 50 or more, they are subject to many more federal laws, including the FMLA. Hartsoe & Associates, P.C. ensures businesses are always working within state and federal guidelines.
Experienced Piedmont Triad employment law attorneys
The attorneys at Hartsoe & Associates, P.C. provide knowledgeable guidance with all matters of employment law. Whether a client needs proactive risk mitigation, or immediate legal assistance, our law firm is here to help companies with their employment needs. We represent business owners in Winston-Salem and Greensboro, as well as the Piedmont Triad. To schedule a consultation with an experienced attorney, please call 336-725-1985 or fill out our contact form.