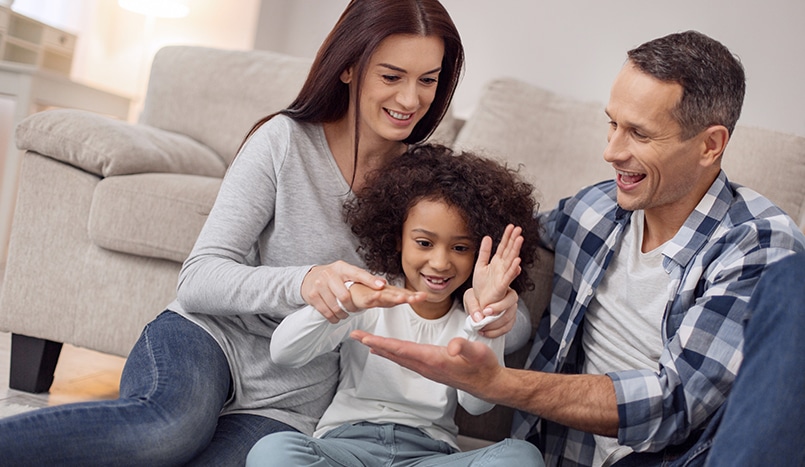 Adoption and Name Change Attorneys in Winston-Salem & Greensboro
Helping bring families together in the Piedmont Triad and beyond
Adopting a child is one of the biggest events in a family's life – but it can also be overwhelming and stressful. There are various types of adoption from which to choose, many agencies with which to work, and piles of paperwork to fill out. In rare events a birth mother may challenge an adoption, or other roadblocks can make the adoption process a difficult one.
The adoption attorneys at Hartsoe & Associates, P.C. have more than 25 years of experience working with people and families in the Winston-Salem and Greensboro area. We provide compassionate and dependable representation when you are ready to grow your family.
Our family law attorneys understand how to work within the family court system as well as stand by your side throughout the entire process, advocating for the best interests of your future child.
"James as a lawyer was great to work with and I highly recommend Hartsoe for any family law matters you may have."
How does the North Carolina adoption process work?
The adoption process begins, per state law, when you file your petition for adoption. After a petition is filed, all the relevant parties in the process are notified and have the right to either accept or contest the petition. In the case your adoption filing is contested, the court typically calls a hearing.
Filing a petition involves a large amount of paperwork and documentation – although, of course, all family situations are unique and can differ. Information in an adoption petition includes:
Affidavit from the adoptive child's (adoptee's) biological mother, which contains the names, marital status and address of both biological parents
Affidavits of fees and expenses
Certified copies of information concerning the adoptee, like genetic and medical info and educational history
Document of consent to adoption by the biological parents
Any ongoing court orders regarding the adoptee's custody or visitation
Order terminating the parental rights of the biological parents
Pre-placement assessment information
These rules are set out to protect the rights of everyone involved in the process. No matter what type of adoption with which you choose to go forward, the courts always consider the best interests of the child, first and foremost.
Find out more about adoption in Forsyth County
Find out more about adoption in Guilford County
Our attorneys are pleased to assist you with any type of adoption matter in the Piedmont Triad. Before you can adopt a child, you must decide what type of adoption is right for you and your family.
What are the types of adoption in North Carolina?
There is no "one-size-fits-all" type of adoption. What type of adoption you choose depends on a variety of factors. Per North Carolina law, anyone over the age of 18 can apply to become the parent of another person (spouses are the exception).
Following are the different types of adoption available in our state. Each one requires a different process, and our lawyers can help you navigate the requirements and paperwork.
Stepparent adoption
Stepparent adoptions are quite common and happen when one spouse wants to adopt the other spouse's child. However, this likely involves termination of parental rights on the biological parent's (the non-custodial parent) behalf. In the event you do not know of the biological parent's whereabouts, our attorneys can advise you on the best course of action.
Private adoption
Private adoptions are traditionally done through an agency, and/or with the help of an attorney. These types of adoptions are typically closed, which means that neither the adoptive parents or the adoptee will know who the biological parents are. The birth parents, however, may be entitled to see things like the results of home studies from the prospective parents.
Open adoption
Conversely, with open adoption, the identities of both the prospective parents and the biological parents are known to both parties. Although open adoptions happen many different circumstances, they are often a good solution for things like relative adoptions, where the adoptive family already knows the adoptee and his/her family, and mutually agree they will adopt and raise the child.
Relative adoption
As mentioned above, there may be family circumstances where a relative may want to adopt another relative – like an aunt adopting a nephew, or a grandparent adopting a grandchild. Often, the adoptee's biological parents are no longer able to properly care for their child, due to reasons like incarceration, drug or alcohol dependency, or abandonment. Our Winston-Salem adoption lawyers can help you through this process.
Grandparent adoption
Like relative adoptions, family circumstances sometimes arise where a grandparent (or grandparents) want to adopt their grandchild. Often in these types of adoptions, the biological parents are unable to take care of the child or are too young to properly parent. Or, the biological parent(s) may be unfit or abandoned the child, which can pave the way for a grandparent adoption.
What is a home study or pre-placement assessment?
In the majority of adoptions, the court requires a home study for relevant information to approve the adoption – and, most importantly, to prove the ability of the adoptive parent(s) to care for the adopted child. Home studies typically address things like:
Your employment history
Your medical history
Your family and friend support system
The safety of your home and neighborhood
Criminal background checks
A licensed child-placement agency prepares these formal assessments.
Home studies and assessments should be completed within 18 months before the court can finalize an adoption, and must be performed by a licensed child placement agency.
What happens during an adoption hearing in North Carolina?
North Carolina adoption law lays out specific procedures for adoption, which include the right to an adoption hearing within 90 days after filing your petition. However, you may be able to avoid a hearing if all parties, including the biological parents, agree to the adoption uncontested.
During an adoption hearing, the court must note three things:
The adoption is in the child's best interest
The adoptive parents are suitable for the adopting the child
All procedures and processes for adoption are successfully fulfilled
If the court finds these requirements met satisfactorily, they will issue the adoption decree – giving your new child the same rights as any other biological child in your family. The biological parent's (or parents') rights are terminated and your child's new family life begins.
You may also be eligible for financial assistance to adopt, for example, through programs for special needs children. Your employer may also offer adoption assistance through your employee benefits. The IRS also provides a federal tax credit for adopting a child.
We also offer assistance with name changes regarding adoptive children. Talk to our attorneys today.
Experienced adoption attorneys helping you grow your family
When you are ready to add to your family through adoption, the attorneys at Hartsoe & Associates, P.C. are proud and excited to advocate for you. Let us help ensure the process goes quickly and smoothly. We serve families and clients in Winston-Salem and Greensboro, as well as the Piedmont Triad. To schedule a consultation with an attorney, please call 336-725-1985 or fill out our contact form.