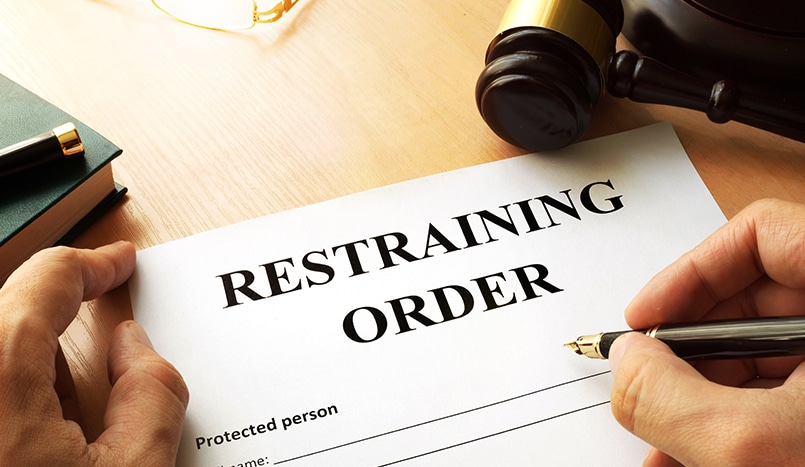 Dedicated Orders of Protection Attorneys in Winston-Salem & Greensboro
Helping families in the Piedmont Triad with domestic violence and restraining orders
When there is physical violence or the threat of physical violence within a family, it may be appropriate to seek an order of protection, or domestic violence restraining order. To file for an order of protection, you must have a domestic relationship with the other party, like husband and wife, parent and child, domestic partners, or the like.
Protective orders require a perpetrator (or alleged perpetrator) of domestic violence to stop his/her actions and cease contact with the affected party. Violation of a protective order is a criminal offense. If you are seeking an order of protection, or have been wrongly accused of domestic violence, the compassionate family law attorneys at Hartsoe & Associates, P.C. can help. We have over 25 years of experience helping people just like you – let us be your shelter in the storm.
What is an order of protection in North Carolina?
State law provides several remedies by which victims of domestic violence can protect themselves and their children from future acts of violence or intimidation. You may also hear orders of protection referred to as a Domestic Violence Protective Order (DVPO) or as a 50B Order, which is the short name for the NC legislation of the same title.
A DVPO is a formal court order that requires a perpetrator to stay away from a victim, or risk arrest by law enforcement. Orders of protection can be temporary or permanent, depending on the situation and a judge's decision.
What constitutes domestic violence?
It is important to recognize domestic violence when it occurs. Domestic violence is typically defined as abusive behavior within an intimate relationship, intended to gain power and control over a victim. It can happen once, or be a pattern of behavior – either way, it is violence and not to be tolerated. Either men or women can be perpetrators or victims of domestic violence.
State legislation (per Chapter 50B as mentioned above) defines domestic violence as:
Attempting to cause bodily injury, or intentionally causing bodily injury; or
Placing the aggrieved party or a member of the aggrieved party's family or household in fear of imminent serious bodily injury or continued harassment that rises to such a level as to inflict substantial emotional distress
This also includes acts of sexual abuse or assault.
To obtain an order of protection for domestic violence, the victim and the alleged perpetrator must have a relationship. State legislation also provides a definition for this. The parties must be one or more of the following:
Current, divorcing or former spouses
Persons of the opposite sex who live together or have lived together
Related as parents and children, including others acting in loco parentis to a minor child, or as grandparents and grandchildren
Have a child in common
Are current or former household members
Are persons of the opposite sex who are in a dating relationship or have been in a dating relationship
Our attorneys can offer immediate assistance if you are experiencing domestic violence.
What are the two types of orders of protection?
An order of protection is only temporary. Because the state of North Carolina has no tolerance for domestic violence or child abuse, the court is authorized to issue emergency protective orders without a hearing. However, an alleged abuser does have a right to be heard.
Therefore, there are two kinds of orders of protection:
In an emergency, a judge will issue a temporary protective order (TPO) as soon as you file the domestic violence complaint. A TPO, or "ex parte" order, lasts about 10 days.
A domestic violence protective order (DVPO), on the other hand, is a more permanent order and granted only after a full hearing. DVPOs can last up to a year.
Once either a TPO or DVPO is active, violating the order is a crime.
How can I get an order of protection for myself or my child?
You can file for an order of protection on your own, but we recommend consulting with an attorney, especially in matters involving divorce or child custody.
The North Carolina Courts provide guidance on securing an order of protection, but the basic steps are as follows:
Find your local North Carolina domestic violence agency (search by county)
Complete a DVPO complaint form
A judge holds a hearing and if he/she determines the complaint is warranted, will issue a TPO
The judge schedules a hearing within 10 days for both you and the defendant to present your cases
If the judge determines the protective order should remain in effect, he/she will issue a DVPO lasting one year
Each county has different practices, so it is best to speak to a family law attorney to ensure you file your complaint properly. In some cases, you may not have to go to the courthouse at all. Our experienced lawyers can explain more.
If you or your child are in immediate and imminent danger, please call 911.
I've been falsely accused of domestic violence. Can you help?
The attorneys at Hartsoe & Associates understand that, on rare occasions, an individual may take advantage of North Carolina's strict domestic violence laws by making false allegations. This sometimes happens during highly adversarial and emotional divorce or child custody cases. We know this is not fair and can have negative repercussions on both your family law case and your personal life.
If you find yourself served with a TPO or DVPO, you are prohibited from:
Direct or indirect contact with the party or parties on the protective order
Direct or indirect contact with your children
Seeing your children at school or elsewhere
Contact via email, text or video
Our job is to represent you and your case with respect, as well as protect your legal rights.
Domestic violence resources in Winston-Salem and Greensboro
If you are experiencing domestic violence, there are a variety of free and low-cost local resources available to you, including:
Community Intervention and Educational Services: 336-776-0322
Department of Social Services (Child Protective Services): 336-703-2287
Family Services Inc. (Sexual Assault Crisis Line): 336-722-4457
National Child Abuse Hotline: 800-422-4453 or 800-4-A-CHILD
National Domestic Violence Hotline: 800-799-7233
National Sexual Assault Hotline: 800-656-4673
North Carolina Coalition Against Sexual Assault - (NCCASA): 800-233-4357
Rape, Abuse, and Incest National Network (RAINN) Online hotline: org
United Way Crisis Helpline: 800-233-4357 or 800-233-HELP
Winston-Salem Police Department Victim Assistance Unit: 336-773-7741 or 336-773-7860
Greensboro Family Victims' Unit: 336-373-2331
You may also visit the North Carolina Coalition Against Domestic Violence and eNOughNC.
Professional, compassionate orders of protection lawyers
If you have questions or concerns about domestic violence orders of protection, the experienced attorneys at Hartsoe & Associates, P.C. can help. We work with you to prove your case, fill out the proper paperwork and help ensure you and your family are safe. We serve people and families just like you in Winston-Salem, Greensboro and the Piedmont Triad. To schedule a consultation with an attorney, please call 336-725-1985 or fill out our contact form.