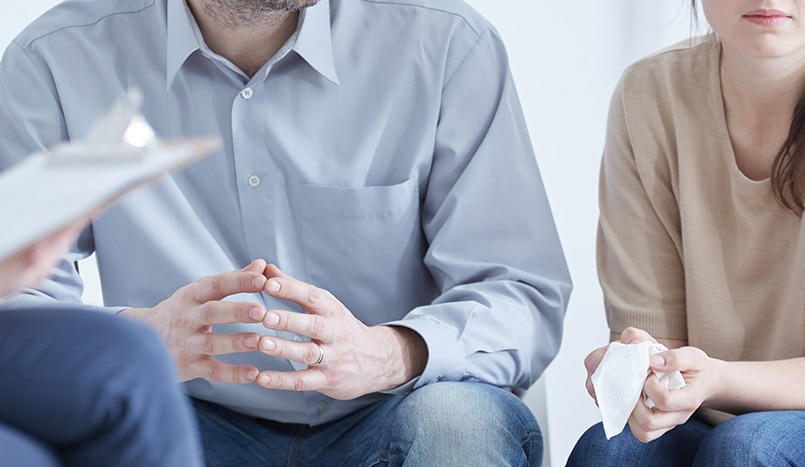 Divorce Mediation Attorneys in Winston-Salem & Greensboro
Cost-effective divorce and family law solutions serving clients in the Piedmont Triad
Mediation can be an excellent alternative to court to solve disputes around issues like divorce, child custody and support, and other family matters. In addition to arbitration, mediation is an alternative method of dispute resolution that allows you and your spouse to settle disagreements without going to trial.
The experienced attorneys at Hartsoe & Associates, P.C. offer both Christian-based and secular mediation services. We dedicate ourselves to making this process as simple and stress-free as possible, and ensure you are comfortable in whatever method you choose to partake.
What is divorce mediation?
In the mediation process, a divorcing couple negotiates the terms of their divorce with a neutral third party, called a mediator. Issues worked out through mediation often include spousal support, property division, or child support. Typically, couples who can work relatively amicably with each other can benefit from mediation.
In cases where you or your child's other parent are in dispute about custody or visitation, the court requires you first go through the North Carolina Child Custody and Visitation Mediation Program. This mandatory program involves one orientation class and one mediation session. The court will waive mediation in cases of child abuse or neglect, domestic violence or substance abuse. Find out more about the state's program.
In mediation, you and your spouse each present your goals for the outcome of your divorce. Your mediator will facilitate conversation, negotiation and keep the session focused on the issues. A mediator may not take sides or advocate for either person. Once issues are resolved and settled, the mediator writes an agreement for your respective lawyers to review. Then, once all parties sign the document, it is filed with the court.
What are the benefits of divorce mediation?
Mediation is geared toward compromise, which means it can help you reach a better resolution than you might get with a judge. Rather than battling over an all-or-nothing outcome, through mediation, you can work toward an arrangement that fits your needs, goals or values. This give-and-take often leads to more satisfying results in the long run. And because mediation is not adversarial – it is not "me versus you," but rather "us" working together – it preserves better relationships and promotes amicable decision-making.
You are in control
With mediation, there is no obligation to agree to anything you are not comfortable with. You get to make the ultimate decision based on what is most important to you. If you cannot reach an agreement, you can still choose to proceed with other forms of alternative dispute resolution, such as arbitration or litigation. You can also resolve some issues during mediation while leaving others for later.
You do not need an attorney
You do not need to hire a Winston-Salem lawyer for mediation – you may certainly consult with an attorney to learn your rights and options, but it is not required. Mediation does not proceed according to the strict procedures of a trial, as it does not take place in the courtroom, so you can represent yourself more easily and less formally.
Less stressful than court
Mediation is much less stressful than court. Litigation requires you to publicly lay out virtually your entire life – finances, private family information, and property – before a judge who makes binding decisions about your future. With mediation, you can sidestep this process and privately reach your own resolutions through a more informal and less stressful process.
Financially smarter
Finally, mediation won't drain your bank account. Compared to a full-blown, drawn-out court battle, mediation is a fraction of the cost, both mentally and financially. Talk to our Greensboro attorneys about how we can help you today.
What is Christian mediation?
Hartsoe & Associates, P.C. also offers Christian mediation services in addition to secular alternative dispute resolution services. Christian mediation places the parties' conflict inside a framework of Christian and biblical values. Whereas secular mediation addresses only material issues like financial loss and gain, Christian mediation includes those hard-to-quantify issues like the parties' long-term relationship and the value of an emotionally healthy family.
Christian mediation may ask the parties to examine their own roles in causing or continuing the conflict.
"How can you say to your brother, 'Let me take the speck out of your eye,' when all the time there is a plank in your own eye?" Matthew 7:4
This type of mediation is much like secular mediation in that it offers a confidential and mutually respectful platform for facilitation of a couple to resolve their issues with the assistance of a neutral mediator. The key difference between secular and Christian mediation is that it incorporates your and your spouse's fundamental Christian principles and beliefs throughout the process.
What happens during the mediation process?
No matter what type of mediation you choose, it typically proceeds as follows.
Stage One. The mediator introduces everyone, explains the goals and ground rules of the process, and encourages both sides to work productively and cooperatively toward a mutually beneficial settlement.
Stage Two. In opening statements, you and your spouse each have a chance to describe your dispute and how it affects you and your life going forward. You can also offer a general solution to the mediator. You and your spouse may not interrupt each other during these statements.
Stage Three. This is a joint discussion where you and your spouse may respond directly to the opening statements, if you are able to be receptive to each other, and further detail your disputes and issues.
Stage Four. Sometimes called a private caucus, this is just a fancy term for meeting privately with your mediator. Each spouse goes to a separate room, and the mediator goes back and forth to work out and negotiate offers between you both. This stage can continue as long as needed.
Stage Five. After reaching agreement, the mediator will draft a document summarizing the main provisions and ask you and your spouse to sign it. If you do not reach agreement, the mediator can decide the appropriate next steps.
The trained mediators at Hartsoe & Associates are pleased to offer our services if you are experiencing any type of family law dispute that you desire to settle out of court.
Are mediation agreements legally binding and enforceable?
Yes, as long as all parties sign, (without duress and with complete understanding), a mediation agreement is binding. You may file a binding mediation agreement as part of a divorce or child custody agreement, in which case it is enforceable as a court order. Additionally, if circumstances significantly change in the future, you may be able to modify your agreement. Talk to our attorneys to find out more.
How our Winston-Salem and Greensboro mediation law firm can help
Lengthy and expensive litigation does not have to be your only choice during divorce. At Hartsoe & Associates, we offer both Christian and secular mediation services. Attorney R. Anthony "Tony" Hartsoe is certified as a family financial mediator through the state of North Carolina. He also has more than 50 hours of advanced training in Christian mediation through Peacemaker Ministries. With a well-rounded background in mediation, arbitration, and litigation, Mr. Hartsoe understands how to help families through effective problem-solving strategies, and is here to help you too.
Cooperative and compassionate divorce mediation
Alternative dispute resolution methods like mediation can help relieve emotional and financial stress during a divorce. The professionals at Hartsoe & Associates, P.C. guide you through the mediation process with ease, in a less adversarial manner than traditional divorce. We serve families and clients in Winston-Salem and Greensboro, as well as the Piedmont Triad. To schedule a consultation with an experienced attorney, please call 336-725-1985 or fill out our contact form.