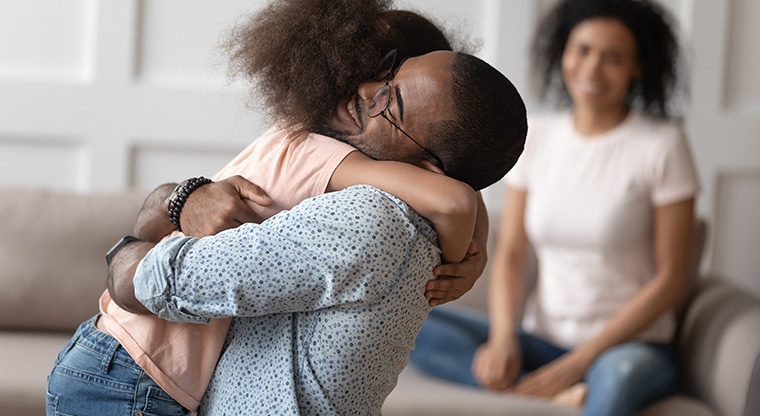 Child Support Attorneys in Winston-Salem & Greensboro
Helping parents in the Piedmont Triad navigate child support challenges
During a divorce, issues of child custody and child support can become complicated. Although every parent wants the best for their child, they may disagree on exactly how that happens. Child support decisions are always for the best interest of the child, and experienced attorneys can help make these types of disputes less stressful on all parties.
The child support attorneys at Hartsoe & Associates, P.C. understand that both parents have a legal responsibility to financially contribute to their child's upbringing, well-being and health. With more than 25 years of experience in the area, our family law and divorce attorneys have the knowledge to help ensure you have the financial resources to care for your child.
How does child support work in North Carolina?
Child support is money paid by a parent to help the other parent support their child in matters of health, education and general well-being. The non-custodial parent typically makes payments to the custodial parent. However, either parent or individual providing care for a minor child in their household can petition for child support.
North Carolina offers several ways to secure child support:
Parents can come to an agreement for child support in their separation agreement
Parents can sign a Voluntary Support Agreement to submit to the court
Through the North Carolina Child Support Services
Via filing a civil complaint in district court
Our attorneys can sit down with you to determine what solution may be best for your personal circumstances.
Child support services are available to all custodians, regardless of gender or relationships. [source]
How is child support determined by the courts?
As set out in the North Carolina Child Support guidelines, a judge considers a variety of factors when calculating child support, including:
Childcare or daycare costs
Child custody arrangements
Disability or medical costs
Educational costs

Health insurance costs
Income of both parents
Number of dependent children
The state also provides worksheets and calculators to help you estimate the correct amount of child support. In cases where income and needs exceed state guidelines, a judge has wider discretion when making child support decisions.
What do child support payments cover?
Although every child has unique needs, their basic needs are all the same, and child support is designed to cover expenses for a child's:
Clothing
Food
Shelter
Daycare or schooling

Extracurricular activities
Health insurance
Transportation
Support can also include any expenses related to your child's physical and emotional health, such as specialized doctors or therapists.
My ex-spouse and I have joint custody. Who pays child support?
When parents share custody of a child, one parent still owes some measure of child support to the other. North Carolina child support guidelines specify how child support should be determined, but any decision must be in the child's best interests.
The court takes into consideration each parent's individual income and circumstances before making a decision regarding child support. The lawyers at Hartsoe &  Associates, P.C. can let you know what to expect, and work to ensure a satisfactory outcome for your child support case.
How long do child support payments last in North Carolina?
Child support typically lasts until the child reaches the age of 18 (or when/if the child becomes emancipated). In cases where a child turns 18 and is still in high school, the court may order those payments to continue, as long as he or she is making adequate progress toward graduating. However, unless both parents make a voluntary arrangement, child support does not continue past the age of twenty.
My ex-spouse isn't letting me see my child. Can I withhold child support?
No, you cannot. The court looks at child custody and child support as two different, unrelated court orders. Withholding child support in order to "punish" a spouse for denying visitation can result in significant penalties.
What are the penalties for failure to pay child support?
A failure to pay child support can result in:
Contempt of court charges
Financial penalties
Wage garnishment
Jail time
If your child's other parent is refusing to make their required child support payments, our attorneys can help with order enforcement. If you are a parent having trouble making child support payments due to loss of job, illness, or other reasons, we can also consult with you about child support modification.
Can I get a child support order changed?
After a child support order is in place, you or the child's other parent may need to modify it. Modifying a court order is a different process, but Hartsoe & Associates, P.C. can walk you through it. Generally, the court will not modify a child support order unless one or both parents experience a significant change in financial circumstances. If your income or needs have increased or decreased to the point it is affecting your ability to support your child, you may be eligible for a modification of your order.
At Hartsoe & Associates, P.C., we are dedicated to the well-being of your child, and have a wealth of resources available to provide the information and guidance you need.
Are child support payments tax deductible?
In North Carolina, child support payments are neither taxable or deductible.
FA child support payments?
The NC Child Support Centralized Collections (NCCSCC) authority processes child support payments in one central location, located in Raleigh. Paying child support through the NCCSCC allows for accurate recordkeeping to protect both parties in the event of a dispute. The NCCSCC can have your child support payment deducted from your paycheck; or, if you are receiving payments, they will also provide direct deposit.
Can I still petition for child support if we were never married?
Yes. The law requires that parents support their children, whether they are married or not. If you are unsure you are the father of the child, you can request a paternity test. Additionally, if the father's name is not on the birth certificate, you can still petition for child support. Our attorneys can help walk you through this process and answer your specific questions.
Dedicated child support attorneys in the Piedmont Triad
Child custody and support are two of the most important aspects of a divorce or separation. The attorneys at Hartsoe & Associates, P.C. can walk you through the process with confidence, working with you to achieve the most favorable outcome for your child. We serve families and clients in Winston-Salem, Greensboro and surrounding areas. To schedule a consultation with an attorney, please call 336-725-1985 or fill out our contact form.